I first came across Sue's work at Stockwell Studios exhibitions in the 1990s. She had recently moved to London from East Anglia, from an open landscape to a closed inner-city environment. Her work then was largely huge ink drawings on paper, the familiar and the symbolic juxtaposed in an almost monochrome world. Some of these symbols: the ladder, a chair, huts continue to populate her work but the monochrome has moved through the shadows and emerging half lights of morning and evening to the rich turquoise and gold of her latest paintings.
As her work moved from paper and ink to acrylic and board, it moved also from the interior world of symbols and archetypes to a more intense connection with the real world beyond the studio. She says the shift began one evening in Southwold Harbour where an evening light lit up a collection of objects familiar from her own drawings. She says it was a relief to realise images outside of herself could contain the same deep personal resonances. Although her painting is still studio based she works from her own photographs; a real world albeit a very particular one.
To become familiar with Sue's work is to be familiar with the transient, the discarded, the broken – but not the hopeless. Even an abandoned supermarket trolley in a weir is suffused with light.
'Between' is a word I think of when I reflect on the paintings. Between East Anglia and London; between her Jamaican mother and English father, between the sea and the land, morning and day, evening and dark. The works are set in liminal spaces. We are invited, not to enter, but to hover between, unseen, unsure. There is nowhere settled and stable, the places of possible habitation are fragile: tents, glasshouses, drifting or landlocked boats; transitory places that are too fragile to be a home. Even the vegetation is of the edgelands: desiccated heads of teasel and cow parsley, thin buddleia spilling over a wall. But the paintings remind us that these places are also places of survival, of fragile resistance, of belief. Here in the forgotten places light is entering the world.
There are no people: a silhouette on a tent wall, the movement of water around a body, but even these are rare events. However, although the paintings are empty of people a human presence is everywhere. Discarded objects shimmer with past touch; the chairs have been sat on, the door once opened. These things are not just the detritus of human existence but are marked with love. They speak of usage and now of attending, of patience. The glass houses wait out winter, nets for the seas to rise, ladders for angels to enter the world.
In many paintings the palette is limited, often dark, but always light enters this dark: the unearthly glow of a white chair against the dark autumn night; the last of the light hitting the glasshouse and being held, the tents like luminescent jellyfish floating in the night. The landscapes are predominantly blue, the sky reflected in the land, the water. Blue is a favourite colour, there are touches in most paintings: the blue white of snow, the shadow on a tap or a touch among leaves as though a piece of sky has landed. Blue has long been associated with the celestial and in the latest paintings it becomes turquoise, a pure spirit of a colour. Sue used it, she said, because it felt like an icon colour and it does. The latest paintings are of roadside shrines in Crete, small house-like enclosures on long, thin metal legs. The colour in these paintings is richer than any of hers I have seen before; intense turquoise, gold, an almost mahogany earth all held together with the purity of white; the white shrine, the white stems of cow parsley that reach up past the shrine into the explosion of turquoise beyond.
These are paintings that invite the viewer into a moment transformed: by light, by paint, by a way of seeing that takes the familiar and makes of it something extraordinary.
Jennifer Vuglar
Art Historian/writer
Chappel Galleries Contemporary Fine Art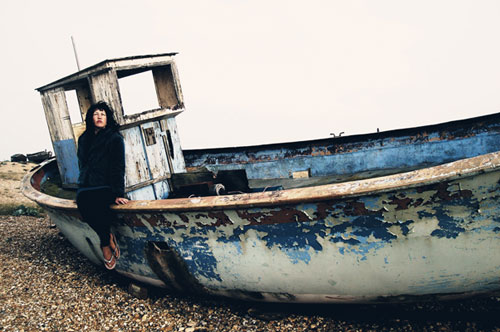 I am interested in poetic juxtapositions of objects, imbued with both their practical uses and their evocation. The magic in the seemingly mundane or everyday.
As well as contrasts of light and dark, some of my work is concerned with the paradox of peace and unease.
I am constantly drawn to certain man made objects placed in nature as well as urban settings. Some integrated or in use, others out of place or discarded.
Actual figures are rare in my paintings. I prefer to use objects that infer a human presence or absence. A chair is a singular object with an individual personality. We are aware of it's presence and relationship to the human body as well as it's emptiness.
'Night Tents' describe the transformation from daytime utility to mysterious, nocturnal otherness. They become reminiscent of colourful jellyfish, glowing and appearing to float in the darkness. This is often the liminal point where my imagery sits.
A fascination with Roadside Shrines, a place where people take time out of their day to light a candle and make offerings. A subject that explores the threshold point between the earthly and the heavenly beside a dusty road.
The threshold between land and sea is a place that excites me.
Fishing boats pulled up on the shore amongst a froth of old tangled nets and worn paraphernalia. Dungeness beach is a beautiful museum of abandoned work history, dotted with each rusting fisherman's story. Fading coloured nets tumbling from black tarred huts beside each flaking boat.
Many transformative qualities of light are fleeting, easily missed.
The low light of dawn and dusk. Colour changing effects of an approaching storm. The mysterious haze of a steamed window on a drab day.
When objects glow from dark settings, or as with glasshouses, become beacons filled with seemingly inner light and mysterious shadowy objects.
They sit on Dormant winter ground, but always allude to growth and renewal.
I have found inspiration in a range of sources. As well as many contemporary artists, I have been drawn to Egyptology, ancient Japanese prints and Tudor portraiture for example. Theatrical forms such as Butoh and the soundscapes I listen to when I work have been equally important.
My work is a visual diary of observations that chime with inner states, memories or life phases. I look for beauty while, at times, attempting to address the unease of befriending the challenging aspects of life.
Whether travelling to the arctic circle, Crete, the Norfolk Broads or a local allotment, the lens of my work is my constant. An anchor but also enables an evolving relationship with my experience of the world.

BIO
Since graduating from Norwich School of Art in 1991, I have exhibited nationally and internationally. My sculpture and paintings in private and public collections include; commissions for hospitals, private interiors, workspaces and as part of the Knebworth House restoration.